Steve Jobs has written his Thoughts on music. Read that first.
Now an established player in the internet music business, why would Apple want to discard a DRM system which has supposedly locked consumers in to iTunes+iPod forever? It seems counterintuitive, but I believe there is a bigger reason behind it than the current legal threat in Europe. It comes down to the statistics that Mr Jobs mentions.
In his article, he states:
Through the end of 2006, customers purchased a total of 90 million iPods and 2 billion songs from the iTunes store. On average, that's 22 songs purchased from the iTunes store for each iPod ever sold.

Today's most popular iPod holds 1000 songs, and research tells us that the average iPod is nearly full. This means that only 22 out of 1000 songs, or under 3% of the music on the average iPod, is purchased from the iTunes store and protected with a DRM. The remaining 97% of the music is unprotected and playable on any player that can play the open formats.
Selling iPods is going well at the moment, but 11% of American adults have an iPod, so there's only so many more you can sell. Music, however, is a neverending stream. People will always want new music for their iPods, and Apple wants to be the one to provide it.
On that basis, consider the statistic that only 3% of music on iPods is DRM-controlled. That's not because the music consumers want isn't offered with a DRM solution—Apple offers a huge selection from all the major labels—it's because consumers don't want to buy the DRM music. Mr Jobs wants a share of the 97%: the music that is sold without DRM.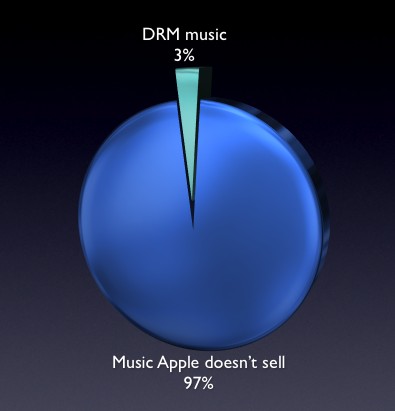 97% – the music Apple doesn't sell
The iTunes music store is perfectly positioned to be a leader in DRM-free internet music sales. It has an amazing brand name. It is integrated with the most popular digital music player. Almost everyone with an iPod has the software installed. Why would Apple not want a share of the sales of the non-DRM music sales?