Instagram has been acquired by Facebook for $1 billion. Instagram CEO Kevin Systrom writes:
When Mike and I started Instagram nearly two years ago, we set out to change and improve the way the world communicates and shares. We've had an amazing time watching Instagram grow into a vibrant community of people from all around the globe. Today, we couldn't be happier to announce that Instagram has agreed to be acquired by Facebook.
What's perhaps more interesting is that Instagram is going to remain a brand and product separate to Facebook inside the Facebook organisation.
Mark Zuckerberg writes on his timeline:
We believe these are different experiences that complement each other. But in order to do this well, we need to be mindful about keeping and building on Instagram's strengths and features rather than just trying to integrate everything into Facebook.

That's why we're committed to building and growing Instagram independently. Millions of people around the world love the Instagram app and the brand associated with it, and our goal is to help spread this app and brand to even more people.

We think the fact that Instagram is connected to other services beyond Facebook is an important part of the experience. We plan on keeping features like the ability to post to other social networks, the ability to not share your Instagrams on Facebook if you want, and the ability to have followers and follow people separately from your friends on Facebook.
And an interesting insight into how he views the acquisition as a unique opportunity:
This is an important milestone for Facebook because it's the first time we've ever acquired a product and company with so many users. We don't plan on doing many more of these, if any at all. But providing the best photo sharing experience is one reason why so many people love Facebook and we knew it would be worth bringing these two companies together.
I was gobsmacked that Mark Zuckerberg thinks Instagram has a lot of users. There must be a hell of a lot of users on Instagram. I decided to do a little more research.
Just under a month ago, Instagram announced that they had 27 million users with their iOS app. With the release of an Android app in the last week, they've seen more than 5 million downloads. In just two years since they launched, that shows phenomenal growth.
If we look at a comparison with Facebook and Flickr, this chart shows how impressive Instagram's growth is: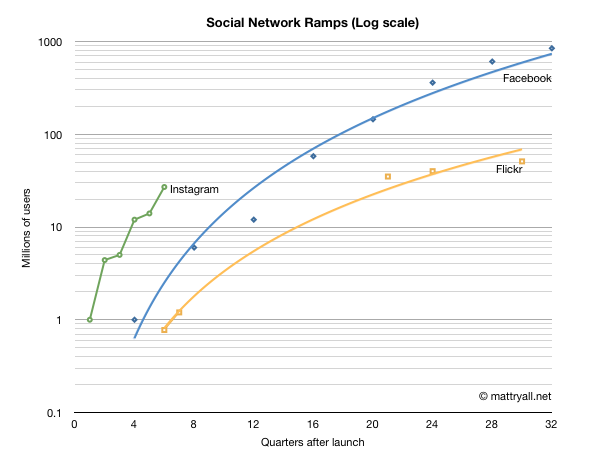 What I find most surprising about Instagram is that they've achieved this growth solely in the mobile space. Their web presence is very limited, perhaps intentionally so. You can get a link to a photo page (example), but there is no way to browse all the photos by a person or navigate their network on the website. To do almost anything with the Instagram "social network", you need to use the mobile app.
Is this a workable strategy for other mobile-focused apps? I think it probably is. Build a web presence that is just enough to get people to understand the purpose of your app and give them a reason to install it and try it out. This certainly hasn't held back the growth of Instagram in any significant way.
I hope Facebook will take some cues from Instagram's brilliant app design and start to simplify and streamline their mobile app. The current Facebook mobile experience is complicated and buggy. They could learn a lot from the Instagram guys.
Sources
Sources for the user data are as follows:
It's an interesting coincidence that both Flickr and Facebook launched in February 2004. Thanks to Horace Dediu for providing the inspiration for this chart.