A great weekend breakfast, these light and fluffy pancakes are more filling than you'd believe.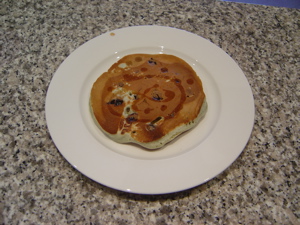 Ingredients
6 eggs
250 mL milk
150 g sugar
1 teaspoon vanilla essence
350 g plain flour
2 tablespoons baking powder
1 teaspoon yoghurt
1 cup fresh or frozen blueberries, crushed
maple syrup
Serves 4.
Procedure
Separate eggs. Whisk together milk, sugar, vanilla and egg yolks, then add flour and baking powder. Mix untill smooth.
Whisk egg whites until stiff peaks form. Fold one-third of egg white mixture and the yoghurt into batter with a wooden spoon until well combined, then gently fold through the rest of the egg whites. Add crushed blueberries.
Heat a non-stick frying pan over low to medium heat. Brush the pan with a little butter and cook the pancakes one at a time.
For each pancake, ladle 1/4 cup of batter into the pan and cook for about 2 minutes, or until bubbles appear on the surface. Turn the pancake over and cook for another minute. Transfer to a plate and keep warm while cooking the rest of the pancakes (or just eat them straight away!).
Serve the pancakes in stacks with plenty of maple syrup.