Ryan Hastie, one of our system administrators in Atlassian's Sydney office, has recently installed two portals to support video conferencing in the style of the game Portal.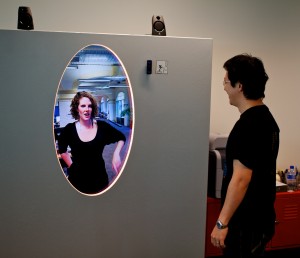 Atlassian portals
They look fantastic and the Portal-themed stickers around the office add to the atmosphere. Here's what Ryan had to say about the devices:
We've installed portals in our two office locations in Sydney here at the Atlassian Software Enrichment Centre, saving our staff many exhilarating but risky street-crossings every day. The portals allow staff to have ad-hoc meetings and conversations by transmitting light and sound.
Physical objects do not appear to transmit successfully, however: So far we've tried to send through a variety of items including beer, hula skirts, companion cubes and technical writers. Most of the beer has been recovered, but if anyone sees a dazed-looking technical writer please let us know.
Ryan describes in detail how he put them together on the Atlassian Developer Blog: Developer lives saved with portal device.
Also: Cakeage and Portal.